WE DON'T JUST GROW TULIPS -
WE LIKE TO THINK WE GROW EXPERIENCES TOO
Maybe it's small, but we really believe our flowers serve as positive
experiences for the people receiving them.

Our model is simple. Grow high quality flowers in The USA, close to the folks buying them. This reduces the time and cost associated with transport and lets us pass savings onto our buyers without having to settle for lackluster flowers.

Fresh Tulips USA specializes in filling high order volumes
for wholesale clients and retailers.
STATE OF THE ART
GREENHOUSE
On top of having experience on our side - we have an awesome location in King George, Virginia. This enables us to provide a constant supply of tulips across the country with orders shipping out within 24 hours of being placed.
WE DIDN'T BECOME LEADERS BY ACCIDENT
The Fresh Tulips approach to being the best in the industry.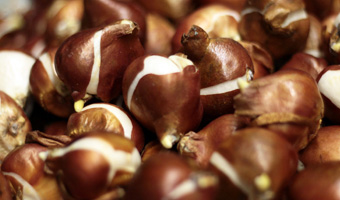 IT ALL STARTS
WITH THE BULB
We grow our flowers from 12cm sized bulbs instead of the conventional 10-11cm most growers go with. Bulbs provide flowers with the raw energy and nutrition they need to grow - so starting off with bigger bulbs allows us to produce better, more vibrant flowers.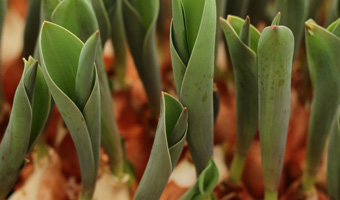 GROWING
PROCESS
We employ a mix of hydroponic and traditional soil-based growing methods in our production process. To us, it all comes down to creating the best environment for the particular variety we are growing. While we don't have a clear preference for using water over soil - we do prioritize being able to provide our customers with incredible flower offerings all year round.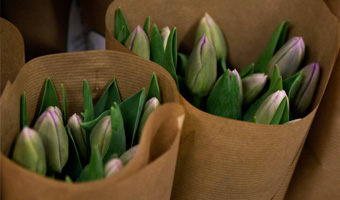 A WHOLE BUNCH
OF BEAUTIFUL
After our tulips are cut fresh, they get separated by hand into bunches, and placed into cold water to get them ready for shipping. This improves the flowers' vase life and prevents the tulips from getting yellow leaves or floppy stems.
Bouquets

We have over 200 hundred varieties of flower - making the combinations of bouquets we are able to offer practically limitless.

It also enables us to respond quickly and effectively to the trends that are resonating the most with your customers at any given moment.

Tulips

Our tulips are simply gorgeous with an appeal that echoes back to tradition while simultaneously maintaining a distinct, contemporary esthetic.

We pride ourselves in being able to bring you the highest quality flowers at prices that keep us ahead of the competition.

Novelty Tulips

All of our flowers stand out from the crowd, but we have a couple varieties that really know how to steal a show.

Our exclusive line of Fringed, Parrot, and Peony Novelty Tulips are totally the divas of our greenhouse and offer the perfect way to make sure your flowers are as special as the person you're giving them to.

Hyacinths

These bright fragrant bursts of color make any day feel like spring. We have by far the best collection of aromatic fresh cut hyacinths available on the market.

Easy on the eyes and the nose, these babies make the perfect arrangement for people looking to introduce a little spring into their day.

BOUQUETS
TULIPS
NOVELTY TULIPS
HYACINTHS
LOOKING FOR INFORMATION
ON LARGE VOLUME ORDERS?
Let's keep the conversation going.